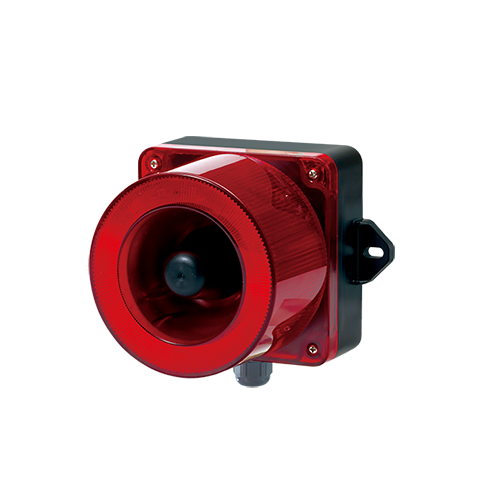 QWCD Series

Copied to clipboard
QWCD35
LED Strobe Signal Beacon & Electronic Sounder Combinations
Weatherproof LED Strobe Beacon Sounder / Audible & Visual Alarm
Max.115dB










Product Feature

31 Built-in Sounds (Max. 115dB at 1m), 30 MP3 User-Defined Sounds (Max. 113dB at 1m)

Voltage

DC:12V~24V│AC:110V~220V

Dimension

□136×179 │Depth : 126

Materials

Horn-PC │Housing-ABS

Protection rating

IP66

Certificate
※ Please refer to technical information page for detailed specification including measurement.
(PDF Viewer, PDF Download, Auto-CAD)
Product Feature
Product Specifications
Download
Product Feature
Product Feature
By using the horn cover as a light globe, the size of the product has been reduced significantly
Easy device customization with built in sound selection function, volume adjustment function and an SDcard slot for user inputted tones
31 available tones that can be selected for a variety of environments
The user can select their own tones by inputting the MP3 file directly into the SDcard.
31 pre-recorded tones available via binary input
Suitable for use in environments that require a tight seal and superior dust protection rated IP66
Can be used in extreme environmental conditions such as the arctic where temperatures can reach -50°C
Flashing rate : 60-80 flashes/min(steady/flashing mode selection available in built in switch)
Materials : Horn-PC, Body-ABS
Ambient operating temperature :
-30°C to +60°C(Standard)
-50°C to +60°C(Low temperature type only DC)
-20°C to +50°C(SD Card type)
Protection Rating : IP66
Certificates : CE Compliant, UL Listed
Compliant with RoHS directive
Product Feature
Product Specifications
Download
Product Specifications
Model number
Voltage
Current
Sound Pattern and Volume
Certificates
Weight
Color
QWCD35
Built-in standard sound

DC12V~24V
Max. 1.300A
• Bit Input : 5Ch(SDcard)
• Binary Input : 31Ch
• Warning Sounds : 115dB
• MP3 Messages : 113dB




1.10kg

R-Red




A-

Amber




G-

Green




B-Blue

AC110V~220V
Max. 0.350A
QWCD35SD
MP3

DC12V~24V
Max. 1.200A
1.15kg
AC110V~220V

Max. 0.310A
※ DC type model has a free-voltage range of 10V-30V.
※ AC type model has a free-voltage range of 100V-240V.
Sound Tone Combination of Standard Product
| No. | Sound Category | Sound |
| --- | --- | --- |
| 01 | Rel rel rel | |
| 02 | Slow Ambulance PI-PO | |
| 03 | Oit Oit warning sound | |
| 04 | Emergency WA-U(Yelp) | |
| 05 | Pi- buzzer | |
| 06 | 7 Short PI. / 1 Long | |
| 07 | Pi o Pi o | |
| 08 | Phone Ring | |
| 09 | Pi- buzzer | |
| 10 | Pi pi pi short | |
| 11 | Di o Di o 2 tones buzzer | |
| 12 | Oit Oit warning sound | |
| 13 | Slow Ambulance PI-PO | |
| 14 | Slow Di o Di o | |
| 15 | Fast Li o li o | |
| 16 | Fire.A-ANG | |
| No. | Sound Category | Sound |
| --- | --- | --- |
| 17 | Fast Ambulance PI-PO | |
| 18 | Slow Ambulance PI-PO | |
| 19 | Ri ro ri ro warning sound | |
| 20 | Repeat Di-o 3 times | |
| 21 | Fire.A-ANG | |
| 22 | Ambulance PI-PO | |
| 23 | Slow Fire.A-ANG | |
| 24 | Pi-pi- buzzer low frequency | |
| 25 | Pi-pi- buzzer high frequency | |
| 26 | Di-di- buzzer high frequency | |
| 27 | Di-di- buzzer low frequency | |
| 28 | Rising Po-ong | |
| 29 | Fast Ambulance PI-PO | |
| 30 | Rising frequency | |
| 31 | Repeat A-ANG | |