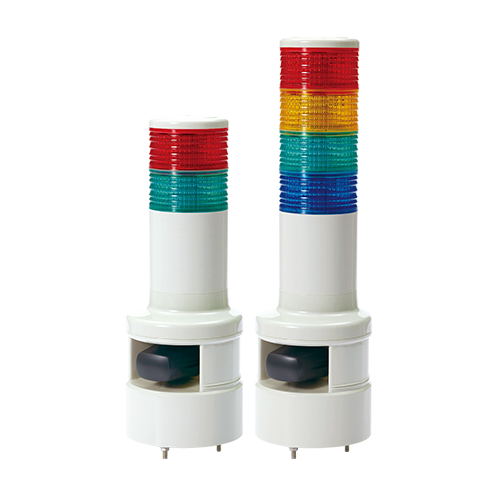 STD-USB Series

Copied to clipboard
STDEL-USB
USB Steady/ Flashing Tower Light & Electric Horn Combination
Max.105dB






Product Feature

Sounder type (Max. 105dB at 1m)

Voltage

DC:12V,24V│AC:110V,220V

Dimension

Lens Diameter : Ø80 │Housing Diameter : Ø119 │Height : 204-364

Materials

Lens-AS │Housing-ABS

Protection rating

IP54
※ Please refer to technical information page for detailed specification including measurement.
(PDF Viewer, PDF Download, Auto-CAD)
Product Feature
Product Specifications
Download
Product Feature
Features
Ideal solution for building smart factories with state of the art technology
LED tower light that is fully controlled by a PC application via USB port connection
Possible to use USB cable connection without an additional power supply
Main characteristics
Provides MS Runtime libraries for developers to utilize in various PC applications
Controlled by PC application
80mm stackable tower light and signal sounder combination model allows simultaneous transfer of visual and audible signals.
LED Module Standard Operation: 2 layers will operate at the same time.
5 sound tones are available for each warning, melody, and alarm sounds.
Built-in clear melody, alarm sound, the type of sound can be chosen when ordered.
Volume : Buzzer – Max.105dB at 1m
USB communication cable is comprised of VCC, D-, D +, GND, and shield
Protection rating : IP23
Compliant with RoHS directive
Operational environment
OS Support(32bit / 64bit): Windows XP, Win 7, Win 10
Library Support: VC++, VB, Delphi(32bit only), C#(64bit only)
Support host that is USB 1.1 or higher
Power supply : DC 5V/500mA rated PC USB * 2 ports are required
Multiple connections on 1 PC is optionally available (up-to 4 units).
※ The Y cable included with the product has a communication and power connection.
Product Feature
Product Specifications
Download
Product Specifications
Model Number
Layer
Certificate
Color
STDEL-USB-WS
STDEL-USB-WM
STDEL-USB-WA
5 Warning sounds
5 Melodies
5 Alarms
1layer
2layers
3layers
4layers
5layers
-
1layer : R-Red
2layers: R-Red

G-Green


3layers: R-Red

A-Amber

G-Green


4layers: R-Red

A-Amber

G-Green

B-Blue
5layers: R-Red

A-Amber

G-Green

B-Blue W-White
Sound Tone Combination of Standard Product
Sound Category
Sound Tone
Sound
5 Warning Sounds

Fire.A-ANG
Emergency WA-U(Yelp)
Ambulance PI-PO(Hi-low)
Machinery Fault
High Expansion

5 Melodies

Sweet Home
For Elise
Cuckoo's Waltz
Piano Sonata
Turkish March

5 Alarms

Beep Intermittent
Door Chime
Phone Ring
PI.PI.PI. Short Interval
Tripping Beat